The ebook, Beginners Spanish – Laying the Foundation, is a book you can assign to your students in its entirety, or in chunks. This is such a great solution for a beginners textbook, but it's also helpful for giving independent work assignments, as a tutorial aid, or for days when you need a substitute teacher!
It is a 180+ page book that offers explicit teaching, links to flashcards, exercises, Mastery Track activities, a Create your own Glossary activity, and stories to check comprehension, as well as an a la carte menu of optional coursework included in the table of contents.
The instruction offered in the book is unique – it combines Spanish and English, offering a guided learning experience that calls upon the student to use prior knowledge, context clues, and cognates to understand the teaching, even as they are learning about a new concept.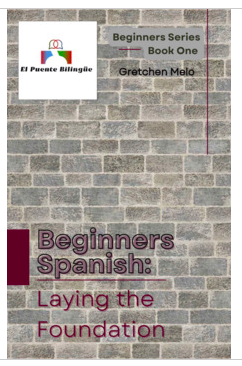 Keep scrolling and exploring to find out what topics and skills are taught in this ebook…there is a Q&A section toward the bottom, as well.
Straightforward Explanations:
Getting started as a new language learner is challenging! El Puente Bilingüe gives thorough explanations in English, without missing the opportunity to build stamina for learning in Spanish. Students are well-guided throughout the book, and go from learning the alphabet to being able to describe and introduce people, and comprehend basic short stories in Spanish!
Convenient Teaching and Learning Tools:
El Puente Bilingüe gives appropriate exercises for each skill set taught. Written explanations, along with pronunciations in the digital flaschcards aid students in the learning process. The answer keys as well as the ACTFL-based rubric at the end of the book make grading convenient and allow for student reflection.
Short Fictional Stories:
Part-way into the book, two characters and their families are introduced to the student in the form of two short passages. At the end, two more stories are presented to the students about these same characters. These stories are written in ways that utilize the skills and vocabulary presented within the book. They also have a few new words. Students have the opportunity to practice what they have learned, test their comprehension skills, and expand their knowledge. Each story includes comprehension questions at the end, and the answers are included in the answer key at the end of the book. By the way, we have big plans for these characters in future books and courses!
Memorization Tips:
There's no way around it – learning a language involves memorization! Each lesson in this book offers tips on memorization as well as exercises to allow students to test their knowledge. There are flashcard components included as well – both digital and blank cards so that students can choose the method that works best. Note: the flashcard links only work in the zip file. They do not seem to work in the Easel file.
Create a Glossary and Mastery Track:
Two very important aspects of this book are the "Create a Glossary" and the "Mastery Track" activities. In an ongoing activity which puts the learner in the driver seat of their experience, the student builds a glossary from the new words that are offered within in the short Spanish explanations in each chapter, and used again throughout the book. This is separate from the words and skills learned in the actual content taught. The Mastery Track activities allow the learner to apply their knowledge in creative ways, encouraging a lot of writing and speaking practice along the way.
A la Carte Menu:
There may be times when students would like the added support of a video lesson or more exercises. For this reason, within the table of contents El Puente Bilingüe has included links to videos and exercises that are specifically created for the 22 lessons in this book. In fact, the book was written after the 22-lesson course was created, and while it stands alone as a wonderful tool for learning, it could be very powerful to use the book along with the video lessons and auto-graded exercises. Not only that, it gives teachers back their time. 
Q & A:
What topics and skills are taught in this ebook?
This is the first book of a series. The skills and topics covered in this book include:

Greetings and Farewells
The Alphabet
Vowels and Letter Combinations
Gender in Nouns and Articles
Home Vocabulary
School Vocabulary
Plurals of Nouns and Articles
Numbers from Zero to Thirty
Accent Rules
Subject Pronouns
Family Vocabulary
Introduction to SER and More
Introductions using Llamarse
Question Words
Introduction to Estar
Using Question Words with Ser and Estar
Introduction to Tener
Colors, plus Adjective and Noun Agreement
Possessive Pronouns
Describing Physical Characteristics
Age with Ser and Tener
Describing Personality

PLUS…
Reading Comprehension
Vocabulary-Building Tips and Activities
Autonomy in Language Learning with the Mastery Track and Glossary exercises
What about Verbs?
This ebook explicitly teaches several verbs and introduces and teaches the concept of conjugating. It also presents several verbs during the stories and the explanations. The next book from El Puente Bilingüe will carry a heavier focus upon verbs, and builds directly upon the lessons in this book.
I purchased your 22-lesson course on Teachers Pay Teachers. What's the difference between this ebook and that course?
I'm glad you asked this important question! First of all, thank you for purchasing the course! This book was written in part by fleshing out the student notes that are provided in the 22-lesson video course. What that means is that I added a lot more detail and explicit teaching to the verbiage that are in the student notes. I also include short explanations in Spanish throughout the book, while teaching even more vocabulary in and through those explanations. ALSO… The book includes a "build your own glossary" feature that helps students take charge of their learning. Another huge addition are the 4 stories in the book,which are written so that students can practice what they've learned, develop reading comprehension in Spanish, and add even more vocabulary to their repertoire. Furthermore, almost every set of questions in the chapters, with the exception of maybe one or two, are different from the auto-graded quizzes that are in the video course! This book complements the course, and vice-versa. It can stand alone as a powerful tool in learning, and it can also be combined with the course to really catapult one's learning experience to a deeper level.
Do you have more material after this?
Think of this book as the bottom layer of the pyramid. Next comes…
*Present tense verbs – Regular and Irregular PLUS my secret method for empowering students to analyze verbs independently!
Here are just a few more skills that will be addressed with other material for the Beginners Level with El Puente Bilingüe:
*Reflexive and Stem-Changing Verbs
*Time and routine
*Preferences
*Progress, Procedures, and Plans
*Expressing likes and dislikes
*Using present progressive,
*Using "se" with verbs
*Informal Future
…and more!

Of course, the beloved characters presented in the first book will be included in the subsequent materials, as well! I cannot wait to continue their stories.
When will you have more material?
I will create the materials, regardless of demand of this book. However, the higher the demand, the more time I will have to dedicate to this important work.
¡MIL GRACIAS! I'm glad you stopped by, and I wish you and your students all the best as you continue building a Puente Bilingüe and create more community in our world.