El Puente Bilingüe curriculum for Spanish language teaching and learning in Montessori settings is here, and I can tell you that there is nothing else like this available to the general public.
Many Montessori schools that have Spanish language programs are in need of a curriculum that is better suited for a Montessori environment, and that is where the El Puente Bilingüe curriculum comes in.
Would you like to take a look at it? Read on!
I would like to invite you to join me for a 20-minute information session where you can learn more about the curriculum.You will find more details here. At the end of the presentation I will offer some bonus gifts that are useful for Spanish teachers.
I hope you will join me in this recorded webinar at whatever time works best for you. In the meantime, thank you so much for doing your part to promote language learning and bilingualism in your school.
https://expertise.tv/webinar/an-informative-overview-of-el-puente-bilingue-s-montessori-spanish-language-learning-curriculum-28c437592b/landing/18552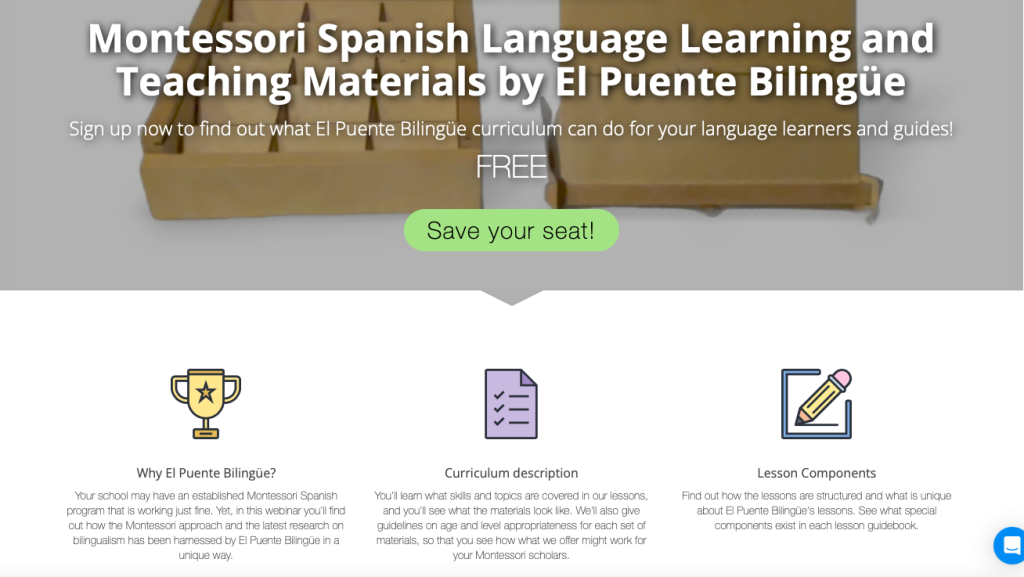 https://expertise.tv/webinar/an-informative-overview-of-el-puente-bilingue-s-montessori-spanish-language-learning-curriculum-28c437592b/landing/18552